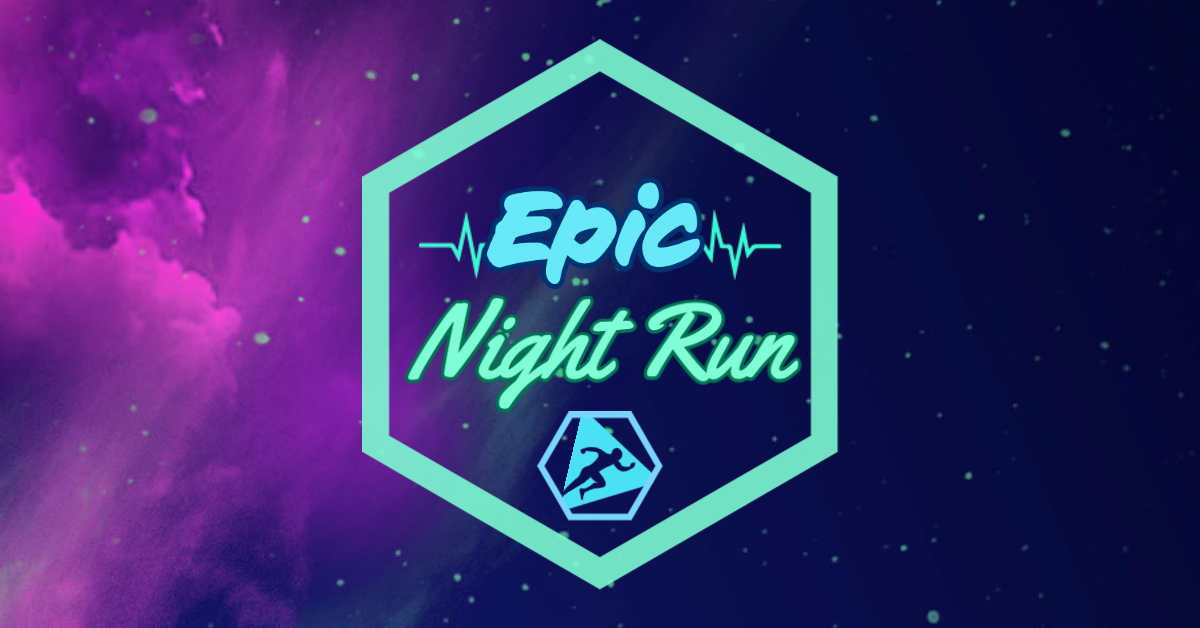 ON YOUR MARKS, GET SET…
Introducing the first ever EPIC NIGHT RUN! An epic event for the whole family with something for everyone. Bring your neighbours and friends and compete in the funnest twilight run around – supporting our local youth centre every step of the way (all proceeds from the race go directly to Epic Youth Services).
EPIC Night Run
Friday October 22/2021
Cardston, AB
Entries Open Now.
DATE/TIME
Friday October 22, 2021. // Registration: 5:00PM. // Race Start 6:00/6:15PM.
LOCATION
Epic Youth Services, 405 Main Street, Cardston, Alberta.
PARKING
Free parking at Lions Park
ENTRY FEES
3k/5km – $25. Online registration closes October 21, at 11:59pm.
Your entry includes:
Race Bib with Racepro Chip-timing and Results. Well-marked course with water stations. Race completion medal. An exhilarating event!
T-SHIRTS
Epic Night Run T-SHIRTS and SWEATSHIRTS ($15) are available when registering online. The deadline to order a shirt is Thursday September 30, 2021 Midnight (MT).
RACE DAY SCHEDULE OF EVENTS
Pickup Times / New Race Start Times
5km runners: pickup between 5:00pm – 5:45pm – new rolling race start 6:00pm
3km runners: pickup between 5:15pm – 6:00pm – new rolling race start 6:15pm
RACE PACKAGE PICKUP
We are staggering race package pick-up according to your race distance. Make sure to give yourself enough time to grab your bib and prepare for a 6:00pm start. Participants must line up 2m apart during package pick-up.
Before receiving your timing chip and race bib number from our team (who will wear masks & gloves) participants will answer the Pre-Screening Questionnaire below (Questions 1 – 4 NO, 5 YES required for participation):
1. Have you traveled outside of the country in the past 14 days?
2. Have you tested positive for COVID – 19 (if yes in the past 14 days, no participation)?
3. Do you have any symptoms: cough, fever, sore throat, difficulty breathing not related to a pre-existing condition?
4. Have you knowingly been in contact with an individual who has tested positive in the last 14 days?
5. Have you read the athlete race day information in its entirety?
RACE START
Racers will line up every 2m (at flags) and individually released every 5 seconds in a time-trial format. Keep moving up the line until you're the next to go. Your start time is automatically triggered when you cross the start line. Although cohorts will be allowed to start and race in a group, side-by-side running is not allowed. We want to leave plenty of room for others to pass.
PASSING PROTOCOLS
Athletes will be instructed to maintain a physical distance of 2m through the race. Passing is permitted when there is nobody coming the other way. Call out "passing on your left" and allow 2m. The runner being passed must fall back to maintain 2m distance from the runner in front.
WATER STATIONS
Water cups will be filled and waiting on the water station tables. Porta-Potties will be stocked with hand sanitizer.
FINISH LINE
Athletes will be encouraged not to directly follow another athlete into the finish area and to always maintain 2m of physical distance. We have a wide finish chute with two lanes. Pick a side and keep moving forward.
POST-RACE
Bottled water and fruit snacks will be available at the finish. Each one will be handed out by a gloved volunteer. After the race, runners can gather in small, distanced groups by the race registration area for a short congratulatory speech.
All participants will receive medals as well as an email with finishing times, overall placement, category placement, per/km pace, etc. Additionally, the winners of each category will be announced and placed on the EPIC website.
COVID & THIS RACE
EPIC is committed to follow all AHS guidelines throughout this race. In the event that the Alberta COVID situation and subsequent regulations do not permit this race to take place, all participants will be refunded their registration fees. All race protocols are subject to change.